[PRE-ORDER]
To keep the price low we do pre-order! you will receive it in about 6-14 working days!
low stock, take advantage of current discounts 
TURN YOUR CHILD'S DAY INTO PURE FUN!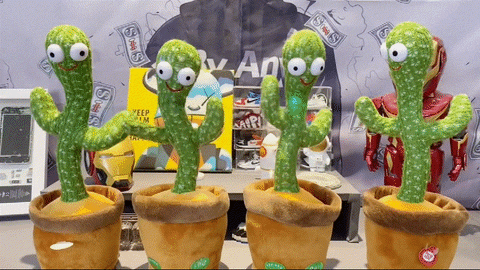 Perfect for children of all ages, because in addition to being fun, it is also educational and encourages child development:
Helps in the development of the personality;

Stimulates imagination and creativity.

They promote the expression of emotions.

Provides logical reasoning.

Good for early childhood education.

Eco-friendly material, non-toxic and wear-resistant.

It helps to interact with more people.

It guarantees hours and hours of healthy play between parents and children.

It helps in the process of memorizing the words you are learning.
The Parrot Cactus can imitate other sounds, you speak and it repeats itself, it dances, sings, moves everywhere, turns 360º
CHARACTERISTICS:
Test for 14 days. If for any reason you are not satisfied, return it to us and you will be refunded!
There is no risk in trying.

Order now with confidence.

🔥3 songs and 120 songs! 🔥
You can choose between 3 songs or 120 songs!
3 songs (singing only)
120 songs (singing, talking, lighting)
Power: 3 AA batteries (not included)
Fun and lovely cactus plush toys, can dance, sing, move.

Our lovely little friend is about 32cm in height and 210g in weight.
She is very slim! With the singing and humorous dancing, children's attention will be aroused and joy will be brought to them!
Adults can also decompress. If you like, take her home, but he adds joy to life.  Made of high-quality materials.