How to get a professional join easily and in less than 60 seconds?
How much time and effort have you wasted trying to place the wood corners into an accurate join? Ryan, one of our first clients said: "I was shocked by the fact that I could ruin all the projects that I hardly worked on just by joining the wood parts together in the wrong way."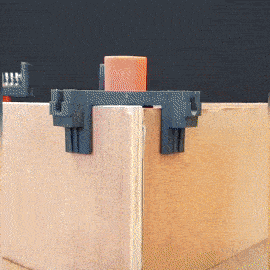 The lancyss™ Clamp Set eliminates frustration and provides a quick and easy solution for difficult joins.
Makes effortless fixes, aligns & holds your workpieces together with precision and accurate alignment
Perfect for all kinds of DIY projects such as shelves, drawers, cabinets & more! 
✅ Reach professional joints: Doesn't matter if you want to build a frame, a shell, or even furniture. This gadget is the key to reach the perfect and pro wood joints.
✅ Fast and easy to use: Just place the angle head you need and accomplish the results you deserve.
✅ Unbreakable material: Made of Strong and durable materials to give you the best performance on every occasion.
✅ 8 Extra Angles for Free Today: As a Gift, you will get 4 x 60° + 4 x 120° Angles until we run out of stock!
GET FREE SHIPPING WHEN YOU SHOP 2 SETS OR MORE
Get your lancyss™ Clamp Set today and get it in the next weeks. We ship worldwide in 7-15 days for most countries.
Try it out RISK-FREE with our 30 days money-back guarantee
[Attention] The ProCorner™ Clamp Set + FREE 4 x 60° + 4 x 120° Angles Head is a Limited Stock Offer. When the stock goes down to zero, we will never have this chance again. The longer you wait to take action, the fewer chances you have to get this unique offer...
100% Money-Back Guarantee. Your order is completely Risk-Free. Try the lancyss™ Clamps and start saving time and effort for a Full 30 Days. If you are not completely satisfied for any reason, we will but it back from you.
Click Add to Cart Now and Start Your Checkout now! (Remember You have 30 Days Money Back Guarantee)