🌾Free shipping worldwide🌾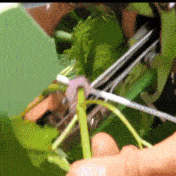 Trellis plants faster than you ever thought possible
✅ Trellis in seconds
✅ Save days of tiring work
✅ Faster than twisties, zippers, or cable ties
✅ Works on all types of plants.
✅ Does not harm delicate stems
✅ Rugged design lasts for years
Grow your plants through the roof with SpeedTrellis® Tapetool. Quickly, safely and easily.
Wrap it around any stake or wire and pull the trigger. The durable tape holds any plant or crop firmly and gently, allowing you to effortlessly guide the growing process.
What makes SpeedTrellis

®

so good?
Wide application

Guide the process of growing grapes, tomatoes, cucumbers, peppers, flowers, etc.
Easy to handle

Simply press and release to tie your plants safely and efficiently.
Gentle on the stems

The soft yet strong tape will not damage delicate items such as twists, zippers, or cable ties
Sturdy

Made of stainless steel instead of brittle plastic. The tape resists the jerks and jerks of high winds and weather conditions.
The large diameter opening can wrap around a wide variety of stakes or trellis wires, ensuring a stable and secure joint for almost any situation. In a matter of minutes, the trellis job is done!
What is in the box
Package Includes: 1 x SpeedTrellis® 3

x Rolls of Tying Tape, 10,000 x Trellis Staples.




Enjoy our customer service support where we solve all your doubts with complete confidence.
You can contact us at our email info odditytime@outlook.com or in our Facebook chat. We will be looking forward to helping you 24/7 with a big smile.